ALL vessel type welcome!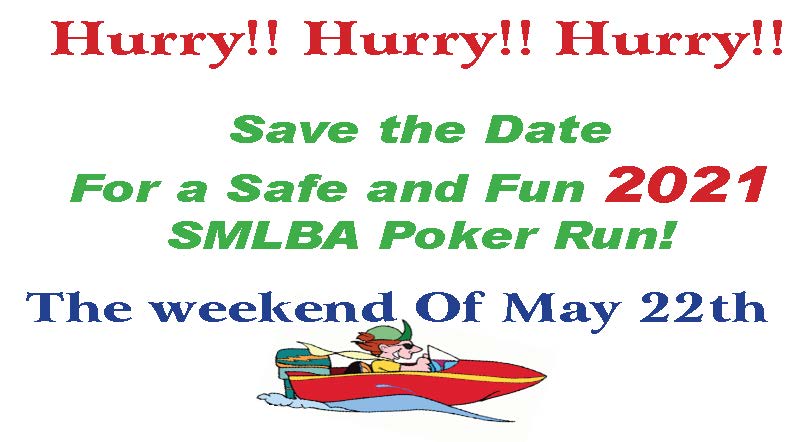 Itinerary to be determined based on Virginia regulations due to Covid, check back for more information.
If you have any questions please contact: 540-797-0944
____________________________________________________________________________________
What is the Poker Run?
First, the poker run is a charitable fund raising event that gives players an opportunity to play "a card game" on the water. It is definitely not a race. There is a limit of 75 boats, but captains can have as many players and registered guests on board as their legal capacity allows. The boats travel to multiple card stops (up to seven) situated all over the lake to retrieve a playing card at each stop at the end, each player presents their best five cards to be eligible for several thousand dollars in cash prizes. The first player to get four aces receives $5000.00. The SMLBA has awarded this top prize numerous times. There is also a $1500.00 prize for the best hand, $500 for second best, $250 for third best, and many other cash awards for various categories such as best appearing crew and the most players on a boat. Proceeds from the event go to various lake organizations such as The Smith Mountain Lake Marine Volunteer Fire Dept.
Boats of every description are welcome. Past events have featured large cruisers, house boats, pontoon boats and even small runabouts...speed is not a factor. If a vessel is too slow or ends up under durress to cover the entire course in the five hours of the event, then they can be "spotted" a card stop and may draw those cards at the end of the run. The larger boats have an even better chance of taking home the cash for the most players on a boat.
The entry fee is $175.00 a player, with a two player minimum per vessel. The guest fee is $110.00. Guests may participate in the entire weekend's festivities, but are not eligible to play the game. All players and guests are treated to a dinner and entertainment on Friday night, and for the actual poker run at Mariners Landing where many participants will be staying. Upon their return to Mariners Saturday afternoon, players, guests, volunteers and sponsors will join together for a beer garden, followed by a dinner and music.
Who was, Tom Maynard, Captain Easy, Article
Registered Captians
| | | |
| --- | --- | --- |
| Gus Pappas | 42' Fountain | Astoria, Ny |
| Nathan Serreno | 30' Adrenaline | Hardy, Va |
| Pat Bailey | 33' Rinker | Moneta, Va |
| Gregg Witt | 34' Sunsation | Moneta, Va |
| Andrew Kline | 27' Fountain | Richmond, Va |
| Scott Witt | 36' Wright Performance | Moneta, Va |
| Sonny Bannister | 36'x10' Wide Catamaran | Raleigh, Nc |
| Jay Barker | 28' Checkmate | Danville, Va |
| Andrew Pantana | 26' Hurricane | Rustburg, Va |
| Chris Bay | 2004 28' Donzi | Virginia Beach, Va |
| Chris Bay | 2006 27' FourWinns | Virginia Beach, Va |
| Andrew Hasty | Eliminator | Bradenton, FL |
| Jon Dabariener | Donzi | Hardy, Va |
| | | |
Player/Guest Registration Online
Player/Guest Registration to print